LIfe in the Bus Lane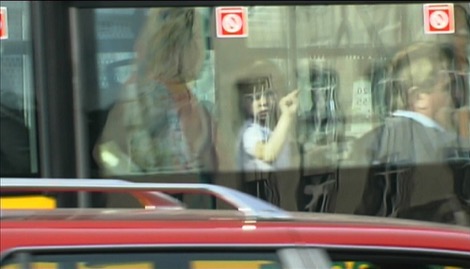 Year of release: 2002
Original format: SD digital video (4.3)
Running time: 11 minutes
Screening format: upscaled digital screening versions available
Credits: A film by Kayla Parker and Stuart Moore, in collaboration with staff and passengers of Plymouth CityBus
A Living City project commission, Plymouth Arts Centre, South West Arts and the National Lottery
Thanks: Plymouth CityBus and shop@panasonic
Distribution and sales: Sundog Media
sundogmedia@gmail.com
Description

A moving portrait of Plymouth made in collaboration with members of the public who contributed memories and nominated favourite bus journeys around the city. This on-screen text appears as a dot matrix crawl during the course of the film:
... from where I live a 42 bus goes to the historic village of Tamerton Foliot with its most attractive church, and near to the terminus it is only 20 minutes walk to Luke's Fruit Farm for a self-pick feast ... using my Concessionary Bus Pass I have seen parts of Plymouth I never knew existed ... many a time I have taken a ride on No 25 for the sheer pleasure of enjoying the scenery on the Hoe and the chat of the many residents living on the Barbican ... if I am of any help, give me a ring ... thank you Driver ...
The film was designed to be shown on urban screens, and was premiered on TV monitors in Plymouth city centre, including the Panasonic shop and Debenhams store.
Production notes

Selection of contributions

Publication and comments

BBC Radio Devon broadcast a piece on
Life in the Bus Lane
. The journalist conducted part of the interview with us in a car, whilst driving one of the bus routes featured in the film.
Exhibition

2005
BBC Big Screen
, city centre, Plymouth, UK (Wimbledon Fortnight June and July 2005)
Bus Lane playing on the Big Screen, rainy July 2005
.
2002
Urban screens
: during summer 2002
Life in the Bus Lane
was shown simultaneously on screens in stores in Plymouth city centre; and presented at Plymouth Arts Centre in the cinema during the programme
An Evening With Kayla Parker and Stuart Moore
(premiere, Panasonic Store, Cornwall Street, Plymouth, April 2002)