Heirloom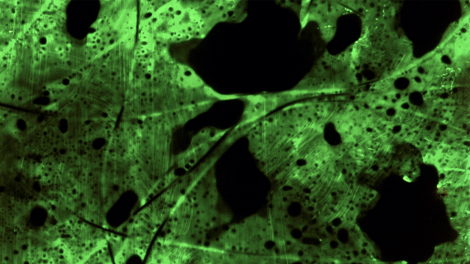 Year of release: 2008
Original format: Super16mm
Running time: 1 minute 50 seconds
Screening format: digital screening versions available
Credits: A film by Kayla Parker
Director/producer/animator: Kayla Parker
Sound design: Stuart Moore
Production: Sundog Media
Distribution and sales: Sundog Media
sundogmedia@gmail.com
Description

Artist's hair, collected after brushing, dipped in bleach and drawn across discarded 16mm colour negative film. An heirloom is passed down the generations of a family; 'heir' is a homophone of 'hair'; 'loom' is a device for weaving together disparate strands and describes something that appears threatening, magnified or distorted.
Production notes

I dip my hair in household bleach, and lay the tangled strands along four short 16mm strips of film to create 'hair pieces', revealing the yellow and green emulsion layers beneath the (un)exposed darkness.


Publication and comments
Exhibition

2020
Cine-Sisters SW
screening for Plymouth Art Weekender, Plymouth Arts Cinema (27 September 2020)
2018
'Drawing with film: gestures in time, place and memory'
The Embodied Experience of Drawing Symposium
, Ocean Studios, Royal William Yard, Plymouth; exhibition includes
Measure
and
Reach
(13 April 2018)
UK programme for the IV Annual Festival of Inclusive Theatre PROTEATR. International Meetings
presented by British Council, Meyerhold Centre, Moscow. "The festival is a celebration of inclusive and innovative theatre projects featuring active participation from actors with disabilities. This year's focus is on classical and contemporary dance. / The British Council supports the festival's UK programme, showcasing artistic work from Exim Dance Company." (Programme notes). Performance of
The Birth of Memory
by
Exim Dance Company
choreographed by Adam Benjamin and featuring large-scale projection of the films
Verge: Nocturne
and
Hold
(9 to 13 February 2018) (presentations forthcoming in South Korea and Mexico, dates tbc)
2016
The Birth of Memory
by
Exim Dance Company
, choreographed by Adam Benjamin, presented at
Resolution
the UK's biggest festival for new dance, The Place, London (29 January 2016)
2014
The Birth of Memory
, by
Exim Dance Company
, choreographed by Adam Benjamin, with original music composition by Eduardo Miranda; dancers: Kevin French, Laura Henry, Emma Pendle, and Mike Williams. The dance performance features large-scale projection of the films
Verge: Nocturne
,
Hold
and
Heirloom
; performed as part of the ImPACT tour: The House, Plymouth (28 January 2015); Cheltenham (12 June 2014); City College, Plymouth (17 June 2014); The Keay Theatre, St Austell (24 June 2014); The Plough Arts Centre, Great Torrington, Devon (15 October 2014); Barbican Theatre Plymouth (24 October 2014); Cygnet Theatre Exeter (14 November 2014).
2011
Soundwaves Festival
, the
Shorts a la Carte
collection of 8 films screened 'silently' whilst each member of the audience curates their own soundtrack, part of the
Listen! programme
on the final evening; Sallis Benney Theatre, Brighton, UK. Thanks to Philip Ilson, London Short Film Festival (17 July 2011)
Plymouth University Festival of Research
:
Materiality and Technology
film programme presented by the Centre for Media Art and Design Research (MADr), Jill Craigie Cinema, Plymouth University. Other films shown are:
Glass
,
White Body
, and
Verge 360
documentation (Monday 14 March 2011)
Angela Blackwell, curator of the Crafty Animators exhibition, with Animated Exeter organiser Susannah Shaw in the Thelma Hulbert Gallery; frame of Heirloom in background. Image © Midweek Herald.
Crafty Animators
,
Thelma Hulbert Gallery
Honiton, Devon; Animated Exeter Festival. Other films shown are
White Body
, and
Sunset Strip
(15 January to 5 March 2011)
Shorts a la Carte
Inamo Restaurant in Soho, Special Event for the 8th London Short Film Festival. Programme of 8 films projected (without sound) onto the diners' tables; other films are:
Twenty Foot Square
,
Verge: Nocturne
,
Small World
,
Poppies
,
Blue Kayak
(Stuart Moore),
Project
, and
Sunset Strip
(9 January 2011)
2010
Hand Eye Visions: the Films of Kayla Parker and Stuart Moore
Cine-City, the Brighton film festival; Lighthouse, Brighton, UK. We presented a
programme
of 17 direct animation films, made over the last 20 years, for the third and final Hand Eye Visions event, curated by Ian Helliwell (27 November 2010)
The Measure of It
16mm film-drawing performance and screening with artist's talk, Studio One at Plymouth Arts Centre, UK (28 April 2010, 6pm to 8.30pm)
2008
Media Arts
: an exhibition of recent work by Media Arts staff, Scott Building, Plymouth University. Screened from looped DVD on monitor mounted on plinth (1 November to 23 December 2008)