Project

Year of release: 1997
Original format: BetaSP and Super 8mm
Running time: 1 minute 15 seconds
Screening format: digital screening versions available
Credits: A film by Kayla Parker and Stuart Moore
Thanks:
Lesley Bricknell
A One Minute commission for the launch of the Lux Centre; London Film Makers' Co-op and National Lottery through the Arts Council of England
Distribution and sales: Sundog Media Sundog Media
sundogmedia@gmail.com
and
LUX Distribution
Description

A series of experiments with light, time, and sense of place: a journey through the history of making visible the invisible, using naturally occurring pinhole phenomena and constructed pinhole devices for seeing, recording and apprehending the world.
Project
is made up of hundreds of pinhole photographs taken on location across the south west peninsula, and includes time-lapse sequences of Mên-an-Tol and other ancient Celtic holed stones on Penwith moors and the Lizard. Images were taken using a home-made shoebox camera, 35mm colour and infrared film, and Kodachrome 40 Super 8 film.
About the
One Minute Commissions
: the LFMC "commissioned 11 new works by established film and video artists to celebrate the launch of the centre. Proving just how much creative potential there is in one minute of film, they show in a rotating programme with Gallivant" (programme notes).
Production notes

I'm really fascinated by light and how it makes us 'see' things. I wanted to have a go at making a pinhole photographs and one day I made a camera out of an old shoe box, black electricians' tape, a piece of black paper and some tinfoil in which I pierced a hole with a fine sewing needle. The images captured on sheets of photographic paper curled inside my shoebox were mysterious, haunting; suggesting other realities, more esoteric perceptions. By removing the barrier of the lens and allowing light to trickle 'unchanged' into the camera obscura, I created a two-way mirror for my subjective perception that reflected my interior world.
I made the film in collaboration with photographer and film-maker Stuart Moore: we travelled across the south west peninsula and recorded our visits to the ancient holed stones of Kernow, discovered natural pinhole phenomena in woodlands, and explored pinhole and optical devices such as the gnomon - the part of a sundial that casts a shadow, from the Greek 'that which reveals'. Our sound design reflects our sonic experience of these locations.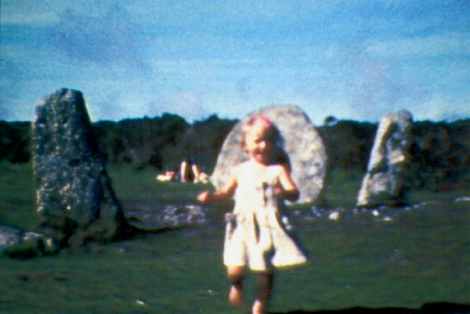 Publication and comments

Experimental film and video: a new anthology
(2006) Dr Jackie Hatfield (ed.)
Project
Super 8mm film frame (enlarged) featured in Images chapter. Eastleigh: John Libbey ISBN 0-86196-664-3 p. 275
Project from Sundog Media on Vimeo.
Read my 1997 production blog on
Sundog Media

Exhibition
selected

2020
Following the Light
, screening of 11 films by artists, curated by Joanna Mayes and Jacqui Knight, presented by
Mayes Creative
/Cinestar; Lizard Lighthouse Heritage Centre, Cornwall.
Sunset Strip
also shown (20 and 21 March 2020).
2017
One Minute
programme of artists' moving image curated by Kerry Baldry for the British Council at
This Way Up
, the UK's annual film exhibition innovation conference, Hull; for Hull City of Culture 2017; exhibition in Audrey, the
Vintage Mobile Cinema
(7 and 8 November 2017)
2016
One Minute
vol 7 collection of artists' moving image curated by
Kerry Baldry
:
Light Night Liverpool 2016
Liverpool Small Cinema;
Night Sounding
,
Yessling
,
Flora
,
Twenty Foot Square
,
Verge: Nocturne
and
White Body
also screened (13 May 2016, 5pm to 11pm)
2015
One Minute
vol 7 collection of artists' moving image curated by
Kerry Baldry
:
Project Space Plus
exhibition, University of Lincoln (23 November to 11 December 2015)
One Minute Hull
Artists' Moving Image Festival, Museum of Club Culture, Hull (8 November 2015, 10am to 4pm)
C.A.R.
presented by Directors Lounge at Contemporary Art Ruhr, Media Art Fair, Germany;
Night Sounding
also presented as part of One Minute volume 8 (29 to 31 May 2015)
2014
One Minute
vol 7 collection of artists' moving image curated by
Kerry Baldry
:
Screening Film
site launch, Kazimier Garden, 4-5 Wolstenholme Square, Liverpool, Merseyside (12 June 2014, 6pm to 9pm)
The Chester Film Co-op
Chester, Cheshire; screenings in the gallery 11am to 5pm on Saturdays, and back-projected onto the gallery window in the evenings 7pm to 10pm on weekdays so as to be seen by passers-by (15 May to 11 June 2014)
Film Material Soup
Rogue Artists Studio, Piccadilly, Manchester (2 May 2014)
Ginsberg Film Festival
Steve Biko Centre, South Africa (17 to 21 April 2014)
Plymouth Arts Centre
presented in the cinema as part of
Sweet FA
, the year-long programme of events dedicated to artists' film in contemporary art, a partnership initiative between Plymouth Arts Centre and
Sundog Media
, with support from Plymouth University (25 March 2014)
Bloc Projects
Sheffield (13 to 15 February 2014)
Furtherfield Gallery
Finsbury Park, London (25 and 26 January, and 1 and 2 February 2014, 12pm to 4pm)
2013
One Minute
vol 7 collection of artists' moving image curated by
Kerry Baldry
:
Projection Rooms
Museum of Club Culture, 10 Humber Street, Hull (26 and 27 October 2013, 12pm to 4pm)
Photo: De La Warr Pavilion, Bexhill by Alan Stanton 2007
Dear Serge
, an evening showcase of "the best in cutting-edge live music, performance and art",
One Minute volume 7
programme projected as repeated loop in the auditorium 2pm > 9pm); De La Warr Pavilion curator Jane Won says
Dear Serge
is an initiative, which pays homage to the Pavilion's Russian architect, Serge Chermayeff, providing "a platform for contemporary interdisciplinary and experimental practice by artists from many different disciplines.
We envisage it to be a testing ground for new ideas as well as a place for artists and audiences to meet and engage more directly in a casual environment. The Pavilion's history is based on the fluidity of artistic engagements during the Modernist period, and we hope this programme will encourage a similar kind of energy."
De La Warr Pavilion
Bexhill on Sea (28 September 2013)
Helfa Gelf Art Trail
, Cofi Roc, 26-28 Y Maes, Caernafon (premiere: 6 and 7 September 2013, 11am to 6pm)
Running order:
Similitudes & Latitude - Eva Rudlinger
Gargantuan - John Smith
The Fair - Rose Butler
From The West - Steven Ball
Artist Vs. Drawing - Alexander Costello
Wilton Wisc. - Leister / Harris
LPX 230311 - Riccardo Iacono
Project - Kayla Parker and Stuart Moore
Jubilee - Louisa Minkin
Presentation Skills - Claire Hope
Model Starship - Max Hattler
Minuet - Steven Woloshen
Sea - Tony Hill
Walk from Station to work - Lynn Loo
Aye Aye - Lumiere and Son
Paper Bag - Tansy Spinks
Prologue to a film - Gary Peploe and Peter Nutley
Artist Vs. Drawing 2 - Alexander Costello
running man - Michael Szpakowski
Unintentional Movie - Guy Sherwin
The Attraction of Manoeuvre - Zhel (Zeljko Vukicevic)
The hands want to see, the eyes want to caress - Matthias Kispert
Sunrise - Stuart Pound
England Expects That Every Man Will Do His Duty - Sellotape Cinema
Grand Tour - Alex Pearl
Sink or Swim - My Name Is Scott
Boot - Kerry Baldry
88 Cuts - Esther Johnson
The Invisible Man - Marty St. James
The Forest was alive (but no one was home) - Nicki Rolls
Artists Vs. Drawing 3 - Alexander Costello
Sun Solarise (Emotional FX) - Katherine Meynell
Election Coverage - Chris Paul Daniels
Dog Glossary - Edwin Rostron
Cable Car - Martin Pickles
Transduction - Grant Petrey
Atlas - Annabel Dover
Talking loud and saying nothing - Kelvin Brown
2011
Rushes Soho Shorts Festival
:
Sunset Strip
,
Project
,
Teign Spirit
and
Brighton Road Movie: First Run
screened in the
Spiritus Sancti and Ghost Radio
programme - a celebration of the analogue and the supernatural - presented by London Short Film Festival; followed by a preview screening of
Sonus
, the new short film from Arthertz and Ridley Scott Associates, and a performance of
Ghost Radio
by ArtHertz collaborator Spacedog accompanied by live light projections by Julian Hand; the Run Run Shaw Space, BAFTA, London (24 July 2011)
Soundwaves Festival
, the
Shorts a la Carte
collection of 8 films screened 'silently' whilst each member of the audience curates their own soundtrack, part of the
Listen! programme
on the final evening; Sallis Benney Theatre, Brighton, UK. Thanks to Philip Ilson, London Short Film Festival (17 July 2011)
Plymouth Arts Centre's
Cinema City
Mobile Cinema, at various locations around Plymouth; in the
Sensing Place
programme (4 to 8 July 2011)
Shorts a la Carte
Inamo Restaurant in Soho, Special Event for the 8th London Short Film Festival. Programme of 8 films projected (without sound) onto the diners' tables; other films are:
Twenty Foot Square
,
Verge: Nocturne
,
Heirloom
,
Small World
,
Poppies
,
Blue Kayak
(Stuart Moore), and
Sunset Strip
(9 January 2011)
2010
The Falmouth Convention
Annexinema
film programme
The Poly Cinema, Falmouth, Kernow (22 May 2010, 8.30pm to 11.30pm)
2009
Media Arts Festival
Jill Craigie Cinema, Plymouth University. I curated and presented the
Media Arts Festival
staff programme (27 September 2009)
2004
Experiments in Moving Image
exhibition organised by Dr Jackie Hatfield and Stephen Littman: "a retrospective of experimental moving image including multi-screened and expanded works from the late 1960's to date." Held at the original Lumiere Cinema, University of Westminster, London, UK. Screening from DVD. Other films selected were:
Walking Out
, and
Elemental
(26 January to 1 February 2004)
2001
Animation: synaesthesia in the experimental animated film
curated by
Suzie Hanna
to mark the FAN International Animation Festival. Film screened on monitor in gallery, on looped DVD with the 16mm films
Inner City
,
Night Sounding
, and
Cage of Flame
. The Norwich Gallery, Norwich, UK. Exhibition with Oskar Fischinger, Jeff Keen, Len Lye, Norman McLaren, and Clive Walley (17 October to 10 November 2001)
2000
Screenspace
exhibition, Gallery One, Watershed Media Centre, Bristol, UK. The exhibition also included work by Anna Lucas, Joe Magee, Sarah Miles, and Tony Sinden (1 to 16 April 2000)
1999
Experimenta Media Arts
Wonderlust
programme of artists' moving image
curated by Keely Macarow and Susi Allender, Cinemedia @ Treasury Theatre, Melbourne, Australia. "A program of recent film and video from major screen artists from the US, Germany, Norway, Canada, Australia and the UK" (programme notes) (12 September 1999)
Stuttgart Filmwinter
Stuttgart, Germany (14 to 17 January 1999)
1998
Zone
Multimedia Festival
Archbishops' Palace, Maidstone, Kent, UK.
Beyond the Screen Towards the Electron
programme (26 October to 5 November 1998)
International Hamburg Short Film Festival
Hamburg, Germany.
No Budget Competition
(16 to 21 June 1998)
European Media Arts Festival
Around the World in a Day
programme (International Selection), Osnabrück, Germany (6 to 10 May 1998)
1997
Kinofilm '97 Manchester International Short Film and Video Festival
Cornerhouse, Manchester, UK. One Minute Cinema programme (6 to 10 November 1997)
Bath Film Festival
Royal Photographic Society, Bath, UK.
And Action!
a day of events for film-makers (9 October to 9 November 1997)
The One Minute Commissions
to celebrate the launch of the Lux Centre, Hoxton Square, London. Presented by London Film Makers' Co-op (premiere, Film-makers' Party, 18 September; followed by twice-daily screenings as the short film before Andrew Kötting's new feature
Gallivant
from 19 September to 2 October 1997)