Tate moon
03/12/2009 20:34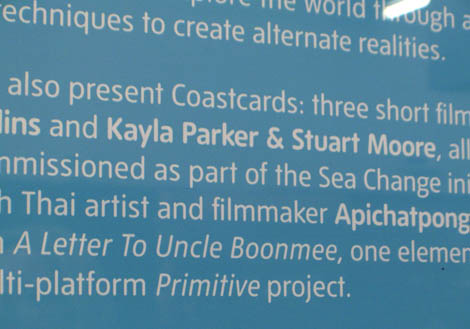 At Tate Modern to see the
AnimateTV
programme in the Starr Auditorium, introduced by Stuart Comer, Tate Modern Film Curator. A sumptuous setting to see our Sea Change film
Teign Spirit
on the big screen.
The moon high outside Tate Modern after the screening, taken while walking past the birch grove and down to Leon Bankside for drinks (lemonade); then along the river to Pizza Express. I choose a Padana pizza, because I've never had one. A pleasant mouth-fullness of dry/wet bite-able textures: thin chewy dough with crisp edges, mild milk-sour goat's cheese, moist spinach leaf and curls of red onion; the sticky brown dots of caramelised onion a bit too jammy and slightly strange. We swap to a window seat when someone leaves, and eat while watching the reflections on the Thames spool by. Two pleasure boats, glowing blue-purple with fairy lights, skim the slick surface downstream, with St Paul's back-projected on the horizon.
Walking to the moon I offer up my camera. The gestural trace between there (what-I-see, my direct vision locked onto the moon [a two-way phenomenon]; I am aware of the periphery, the cobbles, curb, pavement slabs below and around my feet; proximity of fixed, moveable and moving objects to my legs, body, head) and here (my-position-on-the-moving-earth); and our relative movements within a space-timeframe determined by the shutter speed blink - the sensitivity of the camera sensor to reflected and direct light/s.
Being down south we miss the Lumen launch of
Art in Unusual Spaces
in Leeds: the One Minute collection of artists' moving image curated by
Kerry Baldry
is being presented in the Merrion Centre by Lumen in December 2009 and January 2010.
Photograph by Kerry Baldry - thanks Kerry! Two of our films
White Body
and
Verge: Nocturne
are included in the One Minute volume 3 programme which is being shown with onedotzero: citystates 09 in the entrance and first floor cinema spaces at the Merrion Shopping Centre in Leeds, just down from the universities.