Blue Kayak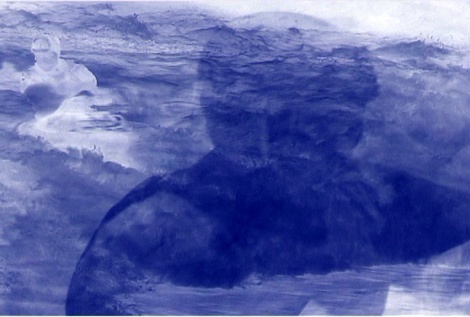 Year of release: 2001
Original format: digital film
Running time: continuous loop
Screening format: QuickTime, Blu-ray or DVD (silent)
Credits: A film by Stuart Moore
Production: Sundog Media
Commissioned by Aune Head Arts for
Dartmoor Lives and Landscapes
; the project was realised through a Key Fund grant
Created through multi-layers of frame-by-frame image manipulation from an extract of DV documentation shot by Jeremy van Riemsdyke, one of the original volunteer participants of
Dartmoor Lives and Landscapes
, before the project was suspended
Distribution of
Physic
by Sundog Media
sundogmedia@gmail.com
The
Dartmoor Lives and Landscapes
DVD, a collection of short films about Dartmoor by people who live and/or work in the National Park, which includes
Blue Kayak
, is available from
Aune Head Arts
(AHA-007 £10)
Description

Eloquent visual poetry of a kayaker, caught on a standing wave on the flooded River Dart in south Devon.
Production notes

In September 2001 Stuart Moore and I were appointed video artists by
Aune Head Arts
for
Dartmoor Lives and Landscapes
, a project that had been abandoned at the start of the year when movement restrictions imposed because of Foot and Mouth Disease made it impossible to film beyond the main roads across the moor. Our role was to review the documentary digital video filmed by the project participants in 2000 and provide a conceptual overview, to shape a coherent and professionally produced programme of short films suitable for distribution, and to work with the remaining participants on the creative and technical post-production of their short films; in addition, we were to make our own 'signature' films as artists, using the video material gathered on the project, which would form part of the
Dartmoor Lives and Landscapes
collection.