Cage of Flame

Year of release: 1992
Original format: 16mm
Running time: 9 minutes 40 seconds
Screening format: 16mm comopt print; digital screening versions available
Credits: A film by Kayla Parker
Director/producer/animator/editor: Kayla Parker
Performer: Nakinda Parker
Cinematography: Stuart Moore
Sound design: Kayla Parker and Stuart Moore
Dubbing mixer: Paul Roberts
An Arts Council of England and Channel Four Animate Award commission
Distribution and sales: Sundog Media
sundogmedia@gmail.com
and
LUX Distribution
Description

A bewitching celebration of menstruation which uses a variety of animation techniques from pixillation to scratch on film. An antidote to the vacuous sanitised view of menstruation promoted by advertising.
"A dream life of angels. What wings really mean. The wise wound and its belly music. Desire is vulvic and creativity claims the calendar of bodies" (synopsis by Gareth Evans: www.animateonline.org).
Production notes

For many years I had wanted to make a film about my experience of menstruation as a woman, in which my unconscious became the author of the work and determined the form and process of making. The Animate award gave me creative space and enabled me to spend 10 to 14 days each month - just before and during menstruation - in my studio, dedicated to the development and production of the film. I felt that the force of images and perceptions from my internal world were stronger around the menstrual period, and I wanted to be able to 'confine' myself, and exclude external influences during this time so that my unconscious could be allowed to express itself freely. I used my illustrated dream diary, automatic writing and drawing, performance and chance to direct the film-making process, which took nine months.
The imagery and course of the film was directed by the dreams I had around the time of menstruation: each month I 'confined' myself, to exclude external distractions, and focussed on creating images, filming and making artwork according to an 'inner' vision. Visuals are ink drawings/paintings, performance/pixillation sequences filmed at different locations (in the wood, amongst overgrown creepers) and in the studio (with lights and smoke machine), stop motion of berries, pumpkin and fire (on the body, reflected in water, and at night), cut-outs in the studio and on location, and painting, engraving and over-printing the film after processing. The sound design developed with the visual elements, to create an internal audioscape of the body. I kept detailed notebooks during the months of production: these contain drawings, storyboards, automatic drawing and writing, and give insight into the development of themes, process, and the film itself. I also have some video documentary footage taken in the studio whilst in production.
Cage of Flame
is the second of a group of three 16mm films which explore interior female landscape from a personal perspective -
Unknown Woman
(1991) is the first,
Walking Out
(2000) the third.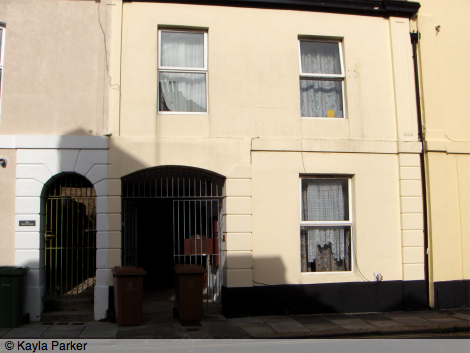 Penrose Street, Plymouth: my studio was a two-story workshop in the courtyard behind the house, which had been used previously by a manufacturer of fishing floats. When I was there, from September 1991 to September 1992, the house was derelict and there were heavy wooden double doors securing the entrance to the courtyard. I made
Cage of Flame
here, and also the two films for Scottish TV,
Canntaireachd
and
Puirt-à-beul
(photo taken 2009)
Publication and comments

Watch the film Cage of Flame on YouTube
Cage of Flame
Animate Projects
(2009 online) Selection of stills from the film; production stills (16mm filmstrips); drawings; and original proposal. London: Animate Projects
A history of artists' film and video in Britain
David Curtis (2007) London: British Film Institute
Experimental film and video: a new anthology
(2006) Dr Jackie Hatfield (ed.)
Cage of Flame
16mm film frame (enlarged) featured in Images chapter. Eastleigh: John Libbey ISBN 0-86196-664-3 p. 275
The bigger picture: getting animated,
Time Out 1000 films to change your life
(2006) Simon Cropper (ed.) London: Ebury ISBN 978-1-904978-73-2 pp. 100 - 101
an.schlage: das feministische magazin
(2005)
Cage of Flame
film still/artwork, a black and white photograph, close-up of Kayla Parker's left eye with black veil, taken by Stuart Moore, the front cover image (Issue 03 / 2005) Vienna: Redaktion
Women's animation: women animators with a distinctive feminine and/or feminist perspective, Ruth Lingford (2003)
Screenonline: the definitive guide to Britain's film and tv history
. London: BFI
Encyclopaedia of British culture
(1999) Peter Childs and Mike Storry (eds.) Animation section by Chris Byrne. London: Routledge p. 27: "Kayla Parker makes films that are experimental in form, with uncompromising subject matter..." See
Animation
section of Encyclopaedia of British culture on Google books.
Vertigo
(1999)
Cage of Flame
still frame 'Woman in Smoke' (enlarged) in 'Breer's babes', article by Samantha Moore (Volume 1 Number 9 Summer 1999). London: Vertigo Magazine pp. 26, 27
Animation world magazine
(1998) Eating and animating: balancing the basics for U.K. independents, article by Marie Beardmore; includes a paragraph on Kayla Parker, with
Cage of Flame
film still. (Issue 3 Number 7 1 October 1998). California: Animation World Network pp. 21 – 24. See
Eating and Animating: Balancing the Basics for U.K. Independents
at awn.com
The British avant-garde film 1926 - 1995
Michael O'Pray (ed.) (1996) Arts Council of England, John Libbey and Luton University
"Joanna Woodward, Simon Pummell, Vera Neubauer, Kayla Parker and David Anderson brought an imaginative energy to the experimental area and found an audience willing to take animation seriously."
Introduction: 1980s
Michael O'Pray p. 24
"Women have had a powerful presence in British Animation of the last ten years. An early C4 commission was Alison De Verre's Silas Marne. The film is representative of a traditional and artisan way of making animated films, fetishising the individual, and so personal nature of the film. A subtext of such films is often the equation that a film made by one person is more profoundly expressive than a film made in a more industrial way. This is perhaps a gender issue, as there is a great concentration of women making films in this way. Rather than a fantasy of technical omnipotence, such films use animation as a space where women choose to make films which avoid the complex power hierarchies and industrial techniques of live action film. [...] Certainly there is a strand of work where women directors films work with confrontational material and are complex grammatically, but rudimentary technically. Kayla Parker's A Cage of Flame (sic) presents a de-sanitised view of women's menstruation. A tumult of mixed media animation including pixillated crimson berries spiralling on a woman's belly, seeds coated in viscous blood-like juice, dancing calligraphic hand-drawn animation, a pixillated woman bursts up through the root structures of a tree and imploding vulva shaped calligraphy. The film is an assertion of a subjective and mythic view of women which the film-maker states is "A counter to the sanitised, pastel pretty version we are conditioned to accept."."
Will the monster eat the film? Or the redefinition of animation 1980 – 94
Simon Pummell p. 308
No Cel Animation
programme by Tim Cole and Vicky Smith, October 1994; London Filmmakers' Co-op.
"Cage of Flame
expresses an ambivalence towards the experience of menstruation. The bleeding woman is alternately imprisoned by her cycles/nature. Her squatting position emphasises the lack of direction or 'object' for her flow."
The encyclopaedia of animation techniques
(1996) Richard Taylor London: Quarto ISBN 0-240-51488-2 Colour enlargement of
Cage of Flame
:
Woman in Smoke
16mm film frame featured in
Themes: Didactic
section. p. 131
A directory of British film and video artists
(1996) David Curtis (ed.) Luton: John Libbey and Arts Council of England ISBN 1-86020-003-6
Cage of Flame
film still/artwork, a black and white photograph, close-up of Kayla Parker's left eye with black veil, taken by Stuart Moore, the front cover image; and
Kayla Parker
pp. 138 – 139
Women and animation: a compendium
Jayne Pilling (ed.) (1992) London: British Film Institute.
International biographical dictionary A-Z: Parker, Kayla
pp. 133 - 134
"In the area of experimental, or avant-garde animation, Kayla Parker has produced a substantial body of work, remarkable for its resourcefulness – in both the formal and economic sense of the word. Her sources are often autobiographical, and some deal with women's experience: Cage of Flame, a recent Arts Council/C4 commission, explores the mythology of menstruation."
Animation in the UK: an introduction
Jayne Pilling p. 82
Cage of Flame from Sundog Media on Vimeo.
Exhibition
selected
2016
Seminar, Royal College of Art, London; presented by Edwin Rostron (December 2016)
2010
Hand Eye Visions: the Films of Kayla Parker and Stuart Moore
Cine-City, the Brighton film festival; Lighthouse, Brighton, UK. We presented a
programme
of seventeen direct animation films, made over the last 20 years, for the third and final
Hand Eye Visions
event, curated by Ian Helliwell (27 November 2010)
The Measure of It
16mm film-drawing performance and screening with artist's talk;
Cage of Flame
projected from 16mm print, Studio One at Plymouth Arts Centre, UK (6.00pm - 8.30pm 28 April 2010)
2006
Death to Animation
animate! remix
screening; initiative with Dick Arnall. Buzzard Buzzard remixes
Cage of Flame
and
Sunset Strip
. Halloween Festival, ICA, London, UK (7 January 2006)
Undercover Surrealism
exhibition:
The New Flesh Incarnate
presented by Animate and Halloween: "flesh narrative territories and visual forms way beyond the frame-by-frame confines of conventional animation, chosen to reflect Battaile's obsessions with sex and death - from the outrageous bestialities of COWBOYS through the menstrual visions of CAGE OF FLAME ... to the darkly erotic fetishes of 'exotic' cultures in the Brothers Quay's THE PHANTOM MUSEUM" (programme notes). Upstairs at the Hayward Gallery, South Bank, London, UK (21 July 2006)
Green (Un)Pleasant Land
Centre for Contemporary Art in the Natural World (CCANW), Haldon Forest, Exeter, UK. Programme of short films presented by Animate and Halloween before a screening of the (original)
Wicker Man
with live musical accompaniment by The Memory Band. Other films shown include
Sunset Strip
(2 September 2006)
2005
Tricky Women 05
Festival Specials
curated by Doris Cleven, Wien, Austria (culture2culture) (3 to 6 March 2005). Group touring programme: St Polten, Linz, Freistadt, Lenzing, Innsbruck and Feldkirch; and
Tricky Women: Festivals im Dialog
, augartenkino kiz, Diagonale05 festival of Austrian film, Graz, Austria (17 March 2005)
Digicult

The Naked Animator
,
Edinburgh Filmhouse, Scotland, UK (2 and 3 April 2005)
2004
The Naked Animator
Holland Animation Film Festival
, Utrecht, Netherlands; Hoogt II (5 November 2004), and Camera (7 November 2004)
2001
Animation: synaesthesia in the experimental animated film
curated by
Suzie Hanna
to mark the FAN International Animation Festival;
Cage of Flame
screened on monitor in gallery, on looped DVD with the films
Inner City
,
Project
and
Night Sounding
. The Norwich Gallery, Norwich, UK. Exhibition with Oskar Fischinger, Jeff Keen, Len Lye, Norman McLaren, and Clive Walley (17 October to 10 November 2001)
Blood
documentary programme. Tag/Traum for ZDF/ARTE. Television broadcast, Germany
1998
Kentra
, Notre Dame Hall, London, UK. Presented by Hallowe'en Society: "A dynamic mix of sound and moving image working as parallels to create a unique space" (programme notes). The DJs were Andrew Weatherall, Richard Fearless, and Atlas Records (20 April 1998)
1997
Portrait
exhibition, Brewhouse Theatre and Arts Centre, Taunton, UK. Woman in Smoke, large framed photographic print from
Cage of Flame
16mm film frame (7 to 25 July 1997)
Artists' Film and Video: Painterly Animation
, Clore Gallery Auditorium, Tate Gallery, London, UK. Presented by the Arts Council of England (14 September 1997)
1995
19th Cambridge Film Festival,
Arts Cinema, Cambridge, UK. Arts Council/Channel 4 Animate programme (13 to 30 July 1995)
No Cel Animation
: "an exciting series of screenings and discussions concerned with the type of animation that challenges."
Feminine Excess: Menstruation and Mystification
programme, which "explores the notion of an excessive or monstrous femininity" (programme notes) Other films included in the programme:
Peyote Queen
(1965) by Storm de Hirsh,
Mid Air
(1989) by Vera Neubauer, and
I Cat
(1980) by Jayne Parker. My eye film still from
Cage of Flame
featured in LFMC brochure. London Film Makers' Co-op, London, UK (25 October 1995)
No Cel Animation programme notes
1994
Kayla Parker: Frame by Frame
exhibition, Plymouth Arts Centre, Plymouth, UK. Solo exhibition.
Cage of Flame
film shown in downstairs gallery on a large TV monitor (from S-VHS loop); with framed artwork from the film - black and white photographic 'Sparklers' performance sequence (photographer: Stuart Moore) - and a selection of large framed photographic prints from 16mm film frames, in upstairs gallery. The
Frame by Frame
exhibition occupied the main downstairs gallery and the upstairs gallery, and there was an exhibition
Visualizing Angela Carter
in the small front gallery: "photographs of images constructed by Anna Maksymluk as a response to her reading of the books and stories of Angela Carter" (programme notes) (16 November to 23 December 1994)
Hygiene
LFMC touring programme, Filmoteca de Andalucia, Spain (with
Urinal
, Greyson: 1988) (October 1994)
FEMINALE 7. Internationales FrauenFilmFestival
Animationsfilme
programe, Köln, Germany (frame of Kayla's eye in festival programme p. 110) (29 September to 3 October 1994)
Stuff of Dreams Multidisciplinary Arts Festival
,
Film and Video Showreel
compiled by
Eat TV
: "Showing continuously over the festival fortnight. Highlights will be shown on the big screen on Sunday July 10th. Eat TV formed in September 1993 in response to lack of facilities for screening work by new film makers in this country. Their aim is to move cinema out of the sterile environs of the art house cinema and into a lively and open atmosphere where people are free to watch, discuss and heckle. Following Visual Input and Cinema Bacchanalia, Eat TV have compiled a showreel of the best of the low budget no budget work screened at these events along with some exciting new and as yet unseen work. It will include work by 3rd year performance arts and fine art students from the Department of Art & Design, Cheltenham & Gloucester College of Higher Education, Kayla Parker, Bolex Brothers, Aardman animators and a host of others" (programme notes); New Trinity Community Centre, Bristol, UK (10 to 24 July 1994)
Animate! preview
ICA, London, UK. See
Animate preview programme
(26 June 1994)
Art into Film
event to coincide with the opening of the Tate Gallery's R.B. Kitaj retorospective; organised by Sarah Stephens, Adam Hodgkins and Maryannick Le Cohu; sponsored by Sight and Sound magazine, The Arts Council of England and the Tate Gallery. National Film Theatre, London, UK. See
Art into Film programme
with notes compiled by Liese Spencer (17 and 18 June 1994)
New Visions 94
the second international festival of film, video and media in Glasgow,
International Zeitgeist 7: Animation Mix
programme. Work selected is "reflective of the vitality of contemporary developments in moving image culture. [...] What each work has in common ... is a depth and relevance, a commitment to a form of expression which is transgressive of the norms" (programme notes). Organised by Malcolm Dickson and Anne Vance; Glasgow, UK (4 to 8 May 1994)
7th Internationales Trickfilm-Festival Stuttgart
International Competition
programme, Stuttgart, Germany (25 to 30 March 1994)
Avant-garde Showcase
:
Hygiene
programme: "The body and the construction of sexuality are themes that have been intensely examined by film-makers in recent years. But any effort to eroticise the body is fraught with complications. How to desire a body that is scored with projections of disease? How to dare to organise an aesthetic celebrating the body without also incorporating the manifestations of violence that have been imposed - violence that is in part ideological, social, technological and physical" (programme notes); National Film Theatre, London, UK (24 January 1994)
Hygiene and Hysteria: The Body Desired and the Body Debased
A London Film Makers' Co-op Touring Programme curated by Sarah Turner and Ian Rashid.
Cage of Flame was
shown in
Programme 1: Hygiene
with John Greyson's feature film
Urinal
(1988): "Notions of the public and the private are interrogated in this programme. Eisenstein, Kahlo, Mishima, Langston Hughes and other dead artists are cryptically summoned to present-day Toronto to probe the politics of public sex and the policing of sexuality in
Urinal
(Canada 1988). Part narrative and part documentary, John Greyson's celebrated first feature uses a dazzling array of film, video, computer animation and comic, bargain-basement invention to create a complex, passionate and playful polemic. Among this film's many accolades is the 1989 Best Gay Feature prize at the Berlin International Film Festival. In
Cage of Flames
(sic), (UK, 1992) Kayla Parker offers an alternative vision of menstruation that avoids the celebratory and the sanitized" (programme notes) (1994 to 1995)
The 1993 Dick Award
: "the most provocative, innovative and subversive short film made in 1993. The programme includes screenings of the jury's shortlist and of Jo Menell's controversial short film
Dick
" (programme notes); ICA cinema, London, UK (6 January 1994)
1993
Secret Passions
, interview with Kayla Parker and extracts from the film in the documentary programme,
Cage of Flame
screened in
Four-Mations
after programme, Channel 4. Television broadcast, UK (TX: 21 November 1993)
VIPER '93
Internationales Film- und Videoprogramm: Innovative Trickfilme
(guest film-maker)
Night Sounding
also screened, Luzern, Switzerland (October 1993)
9th Birmingham International Film and Television Festival
programmed as the short film before Tracey Moffat's feature
Bedevil
(Australia 1993) Birmingham, UK (8 to 16 October 1993)
29th Chicago International Film Festival
Animation
programme, Chicago Illinois, USA (7 to 24 October 1993)
Edinburgh International Film Festival
The Post Office McLaren Award
Programme One, Filmhouse, Edinburgh, Scotland, UK (15 August 1993)
Ashton Court Festival
Creative Video and Electronic Arts Marquee,
Bristol Community Festival, Ashton Court, Bristol, UK. The
Electronic Arts
programme featured six short films by Kayla Parker:
Cage of Flame
,
Fanny and Johnny on Acid
,
Looks Familiar
,
Night Sounding
,
Nuclear Family
, and
Unknown Woman
."...showcasing the most exciting, creative and innovative new film and video in the South West. Over the weekend the programme will provide wider exposure for a range of rarely-seen experimental works which challenge and shift our perceptions of video art" (programme notes) (7 and 8 August 1993)
30th International Short Film Festival in Krakow
selected by Dr Adam Garbicz, Kijow theatre, Krakow, Poland (25 to 29 May 1993)
Altre Inquadrature: Uno Sguardo Sul Cinema Indipendente
Frame by Frame
programme, which also included
The Divine Miracle
by Daina Krumins (1970), and
The Pecking Order
by Vicky Smith (1989), as well as films by Robert Breer and Len Lye.
Frame by Frame
was the first of two programmes of films from the London Film Makers' Co-op.
Cage of Flame
: "Una metafora sulla contraddittoria posizione della donna rispetto al ciclo mestruale: i poteri (relazione con la notte, il fuoco, il magico) e l'essere controllata dalla natura e dall'influenza lunare" (programme notes) Milan, Italy (spring 1993)
Animation by Women
:
Cage of Flame
included in the programme of short experimental animated films curated and introduced by Kayla Parker. The programme of nine films also featured: Vera Neubauer's
Mid Air
(1986) and
La Nuit Sur Le Mont Chauvre
(1934) made by Claire Parker in collaboration with Alexandre Alexeioff. Plymouth Arts Centre, Plymouth, UK (13 May 1993)
Brighton Film and Television Festival
:
Cage of Flame
screened as the short film before Sally Potter's feature
Orlando
(UK 1992) in the festival's
Main Features
programme;
New British Animation
programmed by Ken Anderson, programmer of British Animation Week at the ICA, London Duke of York's, Brighton, UK (5 May 1993)
British Animation Week
: "the first ever festival celebrating British Animation." (Programme notes)
Cage of Flame
screened in
British Animation III
programme, which also included Stephen R Johnson's music video
Steam
(1992) for Peter Gabriel. ICA, London, UK. My eye film frame from
Cage of Flame
featured in both the ICA and the British Animation Week brochures (30 April to 6 May 1993)
Norwich Festival of Women Film-Makers
Animation
programme and
The Cinewomen Award
programme (The Cinewomen Award, funded by the Arts Council of Great Britain: Highly Commended) Cinema City, Norwich, UK (30 April to 2 May 1993)
MEDIAWAVE
International Festival of Visual Arts
Györ, Hungary (27 April to 2 May 1993)
12th Annual Women in the Director's Chair International Film and Video Festival
Animation
programme, Chicago Filmmakers, Chicago Illinois, USA (18 to 21 March 1993)
5th Ankara International Film Festival
International Animated Films Competition
programme, Ankara, Turkey (5 to 14 March 1993)
1992
Anima Teruel
Certamen Internacional de Video de Animacion
programme,Teruel, Spain (7 to 12 December 1992)
8th Fringe Film and Video Festival
The State of the Nation
programme, Edinburgh, Scotland, UK (3 to 6 December)
34th Festival Internacional de Cine de Bilbao: Documentary y Cortometraje
(30 November to 4 December 1992)
IMPAKT
Festival voor Experimentele Kunst
, Utrecht, Nertherlands.
A is for Animation
programme, which also included
Unknown Woman
(25 to 29 November 1992)
36th London Film Festival
Animation at the Cutting Edge
programme (by invitation) which also included Ruth Lingford's
Baggage
(1992) and Jan Švankmajer's
Food
(1992) National Film Theatre, London, UK (5 to 22 November 1992)