Poppies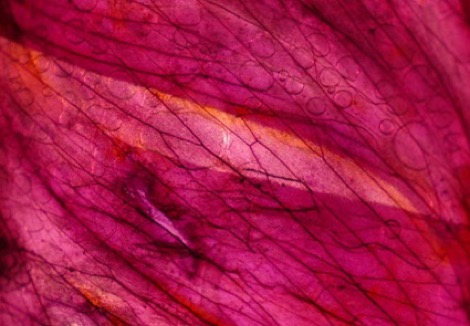 Year of release: 2006
Original format: Super16mm
Running time: loop
Screening format: digital screening versions available (silent); with triptych of photographic prints of enlarged 16mm film frames
Credits: A film by Kayla Parker
Director/producer/animator: Kayla Parker
Production: Sundog Media
Distribution and sales: Sundog Media
sundogmedia@gmail.com
Description

Petals of wild flowers gathered from the roadside verge during a walk along the south west coastal path through the industrial Cattedown area of Plymouth on 27 May 2006. Once home the petals were pressed onto a clear strip of 16mm film. The filmstrip retraces the steps of a short walk when I left the path, drawn towards the intense saturated crimson of the poppy flowers colonizing the waste ground that had been scraped bare earlier in the year.
Production notes

I collected these wild flower petals during a walk into scrubland to the side of the south west coastal path where the route cuts through a limestone ridge under a junction of electricity pylons. Once home, I emptied my pockets and made a filmstrip, using the petals to trace my footsteps.
Poppies
maps my experience of the journey/space, which for me exists somewhere between portrait and landscape, and the interiority of looking and being, as the film moves from the fluttering blue speedwell to the charged intensity of the red poppy folds.
Poppies
is a re-imagining of memory and place, a 'becoming within landscape', that references both JM Turner's intimate studies of the naked female body - until recently these were thought to have been destroyed shortly after the artist died - and the Cymric myth of Blodeuwedd, whose name means 'flower-face' or 'flower-wild' (1). John Ruskin said he had burned all the erotic drawings and paintings he discovered among Turner's effects, the year after the artist's death in 1857: he claimed to be horrified by them, particularly the drawings of "the pudenda of women", which he said were "most shameful", but he is likely to have been influenced also by the first Obscene Publications Act in 1857. The drawings, including detailed anatomical studies of women's genitals, were re-discovered in 2004 by Ian Warrell, Turner expert at the Tate (2); one of the drawings was included in the
Drawing from Turner
exhibition at Tate Britain from 6 November 2006 to 20 May 2007 (3); and three drawings were shown in the
Seduced: Art and Sex from Antiquity to Now
exhibition for over-18s at the Barbican Art Gallery 12 October 2007 to 27 January 2008 (4). The story of Blodeuwedd is told in
The Mabinogion
, a collection of 11 folk tales translated by Lady Charlotte Guest from two medieval Welsh manuscripts and published by her in the mid-1850s. Blodeuwedd is a young woman created by magic from oak, meadowsweet and broom flowers collected from the forest, who is turned into an owl as punishment for plotting the death of her husband.
Since early 2005, a strand of my practice has focused on the south west coast of Britain, beginning with the 16mm moving image artwork
Verge
, made in collaboration with Stuart Moore as a dual screen installation for Salt Gallery, Hayle, in Cornwall.
Sea City
is another collaborative project with Stuart Moore that explores the perimeter of Plymouth along its boundary with the sea - the Super 8mm
Sea Front
directed, filmed and edited by Stuart Moore, and produced by Kayla Parker, is the first film to be released from the
Sea City
project.
Notes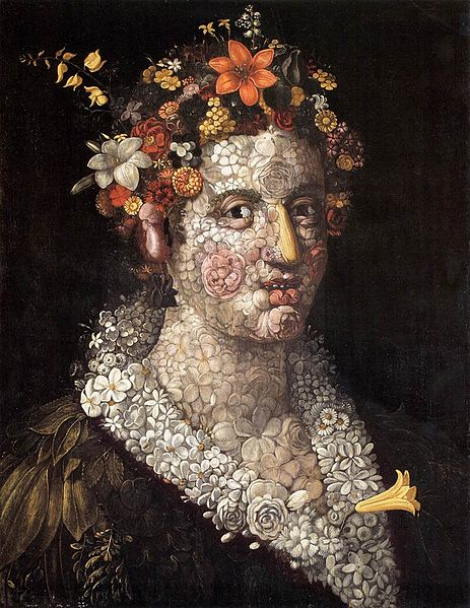 1. Not Blodeuwedd, but the allegorical portrait
Flora
the Nymph
by Giuseppe Arcimboldo, painted in oil on wood panel, 73cm x 56cm, around 1591.
Arcimboldo, (1526-1593), began his career as an artist in the glass workshops of Milan Cathedral, where he designed glass windows depicting scenes from the lives of the saints. He was a highly accomplished painter of natural history and still life in the tradition of Leonardo da Vinci, and left his native Milan in 1562, aged 36, to join the imperial Habsburg court in Vienna on the invitation of the Holy Roman Emperor, Ferdinand I. Arcimboldo then served his successors the King of Bohemia Maximillian II and his son Rudolf II.
Rudolf II moved permanently to Prague in 1582, taking Arcimboldo with him. For several years Prague became the cultural and intellectual hub of Europe, a centre for art and science, with Rudolf II attracting many painters and sculptors to his court, as well as alchemists and astrologers, and astronomers Tycho Brahe and Johannes Kepler. Whilst in Prague Arcimboldo developed a system for visual music, in which he linked colours with musical notes.
Arcimboldo retired to Milan in 1587, but continued to be in the service of Rudolph II. The 1591 paintings
Flora
and
Vertumnus
were sent to Rudolph II in Prague. According to writer André Pieyre de Mandiargues in his book
Arcimboldo the marvellous
(1978, translated from the French,
Arcimboldo le merveilleux
), this painting of
Flora
is a facsimile of an original painting completed in 1588 which does not now exist.
Flora
is in a private collection in Paris. For more information about the artist, see also Thomas DaCosta Kaufmann's book
Arcimboldo: visual jokes, natural history, and still-life painting
, published by University of Chicago Press, 2009.
2. Maev Kennedy's article
Bonfire of Turner's erotic vanities never took place
The Guardian
(29 December 2004)
3.
Drawing from Turner
Tate Britain; artists Paul Day and Bill Woodrow each produced a drawing in response to Turner's sketch 'Erotic Figure Studies circa 1805'
4.
Seduced by the oldest topic in the world
Studio International
(10 January 2008)

Publication and comments
Exhibition

2018
Plymouth Art Weekender; triptych of photographic prints of enlarged 16mm film frames exhibited, Scott Building, Plymouth (28 to 30 September 2018)
2011
Soundwaves Festival
, the
Shorts a la Carte
collection of 8 films screened 'silently' whilst each member of the audience curates their own soundtrack, part of the
Listen! programme
on the final evening; Sallis Benney Theatre, Brighton, UK. Thanks to Philip Ilson, London Short Film Festival (17 July 2011)
Shorts a la Carte
Inamo Restaurant in Soho, Special Event for the 8th London Short Film Festival. Programme of 8 films projected (without sound) onto the diners' tables; other films are:
Twenty Foot Square
,
Verge: Nocturne
,
Heirloom
,
Small World
,
Blue Kayak
(Stuart Moore),
Project
, and
Sunset Strip
(9 January 2011)
2010
Hand Eye Visions: the Films of Kayla Parker and Stuart Moore
Cine-City, the Brighton film festival; Lighthouse, Brighton, UK. We presented a
programme
of 17 direct animation films, made over the last 20 years, for the third and final Hand Eye Visions event, curated by Ian Helliwell (27 November 2010)
2009
Trace and Transience
exhibition at Triangle Gallery, Chelsea College of Art and Design, London. Part of the Land/Water and the Visual Arts exhibition. Film screened as looped DVD on large monitor with photographic triptych on facing wall (5 to 16 May 2009)
2007
Regard
exhibition, Viewpoint Gallery, Plymouth, UK. As installation: film screened as two slightly out-stepped looped DVDs, simultaneously on two monitors at head height on plinths, with screens facing each other at 180 degrees, and photographic triptych mounted on wall in between. The viewer is prompted to consider the transient relationship between time and place, past and present, through the hypnotic flow of petals as they spin in an endless stream of moving images and the film stills of the pressed poppy petals, their intimate folds frozen in a series of photographic moments that frame the rupture between then and now, there and here. (14 to 18 May 2007)