Inner City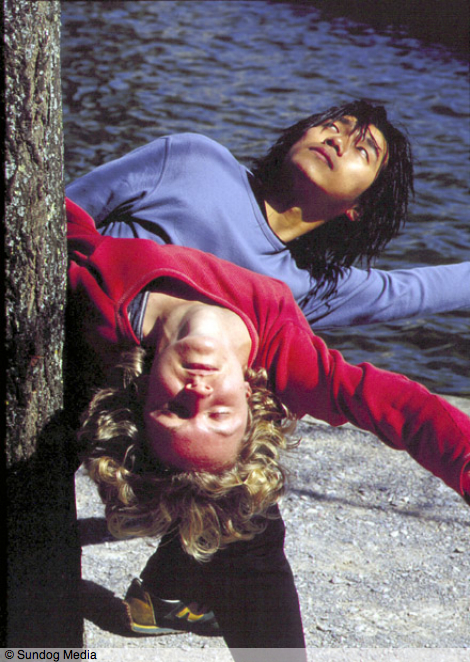 Year of release: 2001
Original format: DV and Super 8mm
Running time: 11 minutes
Screening format: digital screening versions available
Credits: A film by Kayla Parker
Director/producer: Kayla Parker
Cinematography: Stuart Moore
Sound and editing: Stuart Moore and Kayla Parker
Dance choreography: Lois Taylor
Performers: Amanda Banks and Jun Morii
Thanks: Bob Butler, Jacqui Gee
Production: Sundog Media
A Year of the Artist commission, South West Arts; and South West Media Development Agency
Distribution and sales: Sundog Media
sundogmedia@gmail.com
Description

A film journey through the urban landscape of Plymouth: a psychogeographic response to a three week residency with Attic Dance in the city centre, for the Year of the Artist in spring 2001. The aim of the project was to explore human movement in the pedestrian areas along the north/south axis of Armada Way, with the city itself playing a key role in the development and production of the film. We encouraged passers-by to contribute to the process of dance and film being made, and the film reflects this interaction.
Production notes
The name for the Year of the Artist residency in Plymouth city centre was
Highly Visible
.
Inner City
is the Year of the Artist film that was created from the residency and my collaboration with Attik Dance.
Note
: at the time of the Year of the Artist project development and production, 2000 - 2001, Attik Dance was known as Attic Dance.
Inner City storyboard


Publication and comments

Victoria Hunter (ed.) (2015)
'Moving sites': transformation and re-location in site-specific dance performance
. London and New York: Routledge. p. 346
Animated: the community dance magazine
(2001) Highly Visible, article by Lois Taylor (Summer 2001). Leicester: BCPublications on behalf of Foundation for Community Dance. pp. 38 - 40
Highly Visible in 365: Year of the Artist in the South West
(2001) Bob Butler, Alyson Sarah Hallett and Piers Rawson. Bridport: Agre Books and South West Arts ISBN 0-9538000-6-7. p. 113
Preview by Andrew Jex
The Scene
(May 2001) Plymouth: "It's about how we move and interact within urban city spaces, i.e. do we conform to the predictable grids and boxes of where to walk/not to walk? Does the architecture of the city affect our mood/stride? Do we subconsciously mimic those around us? Are there 'slow'/'repetitive' parts of town that bring out different skips, leaps and jumps...?"
Audience feedback
:
Inner City: comments

Exhibition

2011
Plymouth Arts Centre's
Cinema City
Mobile Cinema, at various locations around Plymouth; in the
Sensing Place
programme. Thanks to Anna Navas and Bryony Gillard (4 to 8 July 2011)
2005
BBC Big Screen
, city centre, Plymouth, UK (Wimbledon Fortnight June and July 2005)
2002
text 2002: a festival of writers for Exeter
, tEXt: Point to Line programme, with Caroline Bergvall, a French-Norwegian poet based in England, reading her work Felt, Phoenix Arts Centre, Exeter, UK "a beautiful study of movement in the urban environment, exploring the idea of the city, of private activities in public spaces [...] a psychogeographic journey through the urban landscape." (Programme notes). "The film was very well received and looked great on the big screen. The audience applauded loudly. Thanks so much Simon Persighetti" message chalked on an Exeter paving stone for tEXt 2002 festival of writers - May 2002 Ref: 0944 9/5/02 (9 May 2002)
BBC Music Live: Big Screen Jubilee 2002
, Plymouth City Council programme of cultural film screenings and live music between the World Cup football matches; with the BBC, Plymouth Hoe, Plymouth. UK. (1 to 8 June 2002)
Dance Live!
Dance Shorts
: "A programme of short films about dance in Watershed's cabaret style Gallery 2, where you can drink, eat and smoke." (Programme notes). Watershed Media Centre, Bristol, UK (Bristol Area Dance Agency) (12 September 2002)
Bath Film Festival
, Roll VT2: a Night of New Short Films by Young People
, presented by Suited and Booted Community Video, supported by the Lottery through the Film Council's First Light initiative; Window Arts Centre, Bath, UK (19 October 2001)
2001
Animation: synaesthesia in the experimental animated film
curated by
Suzie Hanna
to mark the FAN International Animation Festival. Film screened on monitor in gallery, on looped DVD with the 16mm films
Project
,
Night Sounding
, and
Cage of Flame
. The Norwich Gallery, Norwich, UK. Exhibition with Oskar Fischinger, Jeff Keen, Len Lye, Norman McLaren and Clive Walley (17 October to 10 November 2001)
Urban screens
: during summer 2001
Inner City
was shown simultaneously on screens in four electrical stores in Plymouth city centre, close to Armada Way, along which the action of the film takes place; and at Plymouth Arts Centre (Premiere: May 2001)
Inner City from Sundog Media on Vimeo.