Father-land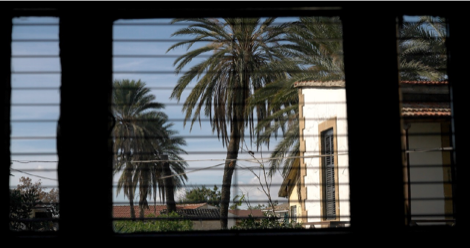 Year of release: 2018
Original format: Cinema 4K 24fps digital video, stereo sound
Running time: 20 minutes
Screening format: C2K DCP, C2K, 4K UHD and HD digital files, and HD Blu-ray
Credits: A film by Stuart Moore and Kayla Parker
Production: Sundog Media
All filming and sound recorded on location in and around the UN-controlled Buffer Zone, Nicosia
Created through a University of Plymouth artist residency at Nicosia Municipal Arts Centre (NiMAC, associated with the Pierides Foundation)
Distribution and sales: Sundog Media
sundogmedia@gmail.com
Thanks: Dr Yiannis Toumazis and the staff at Nicosia Municipal Arts Centre (NiMAC), Nicosia, Republic of Cyprus; Professor Liz Wells and the research group for Land/Water and the Visual Arts, School of Art, Design and Architecture, University of Plymouth, UK; Professor Andrew Spicer and the 3D3 Doctoral Training Centre, University of the West of England, Bristol, UK; Major Robert Szacszon and the UNFICYP United Nations Peacekeeping Force in Cyprus; Nicos Philippou, University of Nicosia; Jill Bright and Louise Schumann.
Synopsis

The demilitarised zone in Cyprus is peppered with signs forbidding photography. In the city, the zone is abandoned and derelict. The people have to work around the zone, but we try to rise beyond it. Our longing gaze sees the beauty of the distant mountains, the sky and the birds. Our memories of our militarised childhoods reach out to the zone - close, but always out of reach.

A documentary exploring notions of home, loss and displacement filmed in the divided city of Nicosia. The film-makers recall their experiences of being 'RAF children' whose fathers were stationed in Cyprus during the Cold War.
Winner of the BAFTSS Practice Research Award
. Category: Essay/Experimental film (British Association of Film, Television and Screen Studies Best Practice Research Portfolio 2020). Read Moore and Parker's BAFTSS
Father-land
research statement.
Stuart Moore and Kayla Parker filming on location at the abandoned Nicosia International Airport; UN Buffer Zone. Image credit: Major Robert Szacszon, UNFICYP United Nations Peacekeeping Force in Cyprus

Description

The voices of two unseen narrators, one male and one female, spoken by the artists, recall their militarised childhoods, exchanging memories of home, loss and displacement against a backdrop of views of the fractured city of Nicosia, Cyprus. The visible legacy of the violent conflict that tore the island in two over four decades ago contrasts with the beauty of the sky and the mountains beyond, and the birds and wildlife that thrive in this no man's land.
During their artists' residency hosted by Nicosia Municipal Arts Centre (NiMAC), living and filming next to the demilitarised Buffer Zone in the southern half of Old Nicosia became a quiet reflection for Moore and Parker on the uneasy stasis of the unresolved conflict that tore the island in two over forty years ago. The Buffer Zone is still patrolled by the United Nations Peacekeeping Force, which separates the Turkish-occupied northern section of the island from the Greek Cypriot south. Political and social histories, the legacies of colonialism, occupation, and the Cold War, resonate culturally and also biographically for the artists, as both had childhood links with Cyprus through fathers stationed there with the Royal Air Force before the division of the island - uprooted from one country to another, patriarchal baggage moved by external forces.
Reviews and comments

"This is a really haunting and also very timely film, with a strong research statement, which interweaves memory, archive and voiceover to explore the liminal spaces between present and past and the borders between cultures and nations. An original idea around collaborative work as method: both filmmakers have a relationship to Cyprus via their father's military work, and the film interrogates and unpacks the patriarchal and colonial legacies not only of their personal narratives, but also the story of Nicosia itself, as the only divided capital in Europe. A moving depiction of recollections of childhood, the film questions the concept of home; the 'here' and 'there', reflecting on images of conflict and bringing together the personal and the political. It feels very apposite in our post-Brexit times." (
BAFTSS 2020 Awards: Best Practice Research Portfolio
, judges' comments).
Father-land
"challenges a patriarchal, colonial aspect of an island where the dependence on the motherlands, Greece and Turkey, and also the desired annexation to the latter, constituted a key argument for both sides for a series of violent and bloody incidents, climaxing in the Turkish invasion of July 1974 and the continuing division of Cyprus" (Yiannis Toumazis,'A Guest + A Host = The Cyprus Ghost',
Layers of Visibility
, 2018, p.76).
"Whilst in Cyprus we usually talk about the mother country, Stuart Moore and Kayla Parker created the film called 'Father-land' since their fathers had served in Cyprus as members of Royal Air Force RAF in British Bases. One of the artists lived in Limassol as a child. Returning now as adults they form links between their childhood experiences as children of English officers and their impressions of the Dead Zone. They narrate their relationships with their fathers, their constant moving from one country to another, and they refer to the consequences that the presence of a military force, set in a different state from its base, may have. The ability of a pigeon to fly across these metal barriers, a crane used to build outposts at the Green Line on the other side have all been used to symbolise things which for us have become very ordinary. However, when looking at these aspects in a film, they spark new thoughts in our minds which help us awaken to see the reality which we so blindly had become accustomed to and disregarded." (ΦΙΛGOOD, Aποδελτιωαη: 25 November 2018, p.17;
Layers of Visibility
exhibition review, translated from the Greek).
Publication
2020 With Stuart Moore: 'Camp Followers of the Cold War'
Viewfinder
magazine Issue 116 (autumn 2020) (British Universities and Colleges Film and Video Council). Read essay:
https://learningonscreen.ac.uk/viewfinder/articles/camp-followers-of-the-cold-war/
2018 'Father-land' [with Stuart Moore, text and stills; for exhibition at Nicosia Municipal Arts Centre, 19 October 2018 to 12 January 2019] in Liz Wells (ed.)
Layers of Visibilit
y
: NiMAC/University of Plymouth Artist Residencies 2013-2017
. Plymouth: University of Plymouth Press. Publication date: 19 October 2018. pp. 79 to 90, and cover image.
2018 'Framing memory: return to the zone' [with Stuart Moore, chapter/conference proceedings] in Costa Valenta A. (ed.)
AVANCA | CINEMA 2018.
Avanca: Edições Cine-Club de Avanca. ISSN: 2184-0520. Publication date: 25 July 2018. pp. 103-108.
2018 'Father-land: troubled dialogues in a divided island' in
Arts Institute Research Stories 2016/17
[with Stuart Moore, text and stills; research brochure] Plymouth: University of Plymouth. Publication date: 1 January 2018. pp. 17 and 18.


Exhibition
Loss
, group exhibition with Irene Andessner, Oreet Ashery, Rosy Martin, Claudia Pilsl, and Elisabeth Wörndl, curated by Claudia Pilsl;
ArtP kunstverein
, Vienna, Austria (4 to 26 September 2021)
Discovering Dalmatia VI: Watching, Waiting - Empty Spaces and the Representation of Isolation
; The Institute of Art History - The Cvito Fisković Centre in Split, Croatia (3 to 5 December 2020; the conference opened with a screening of
Father-land
, introduced by the film-makers, Moore and Parker, and was followed by the presentation of their paper,
Separation Anxiety: Filming the Nicosia Buffer Zone
).
DD VI publication pdf
15th Cyprus International Film Festival
, K-Cineplex, Nicosia (15 to 22 November 2020; Official Selection, Golden Aphrodite Award semi-finalist).
10th Bridges International Film Festival
, Official Selection documentary programme; Nafplio, Greece (20 to 25 January 2020; cinema screening, opening film on the first day of the film festival).
Research Festival 2019: Layers of Visibility
, University of Plymouth; Jill Craigie Cinema, Plymouth, UK (22 January 2019, UK premiere, following Moore and Parker's paper presentation,
Narratives and Memories
)
Layers of Visibility
exhibition curated by Liz Wells and Yiannis Toumazis; Nicosia Municipal Arts Centre (NiMAC, associated with the Pierides Foundation), Nicosia, Republic of Cyprus (19 October 2018 to 12 January 2019, premiere, large-scale gallery projection with stereo sound).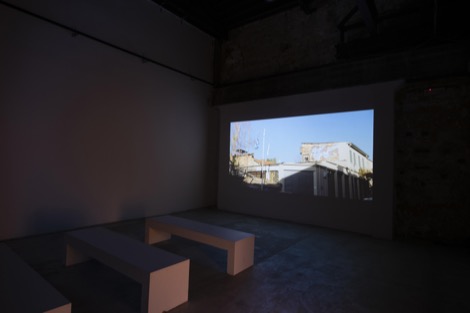 Gallery installation, Nicosia Municipal Arts Centre. Image credit: Louca Studios


Practice research presentations

Separation anxiety: filming the Nicosia Buffer Zone
,
Discovering Dalmatia VI: Watching, Waiting - Empty Spaces and the Representation of Isolation
, The Institute of Art History - The Cvito Fisković Centre in Split, Croatia (3 to 5 December 2020)
Thinking Place: Remembering Through Father-land
,
Family and Autoethnography
:
BAFTSS Practice Research SIG Seminar,
a British Association of Film, Television and Screen Studies event led by Dr Charlotte Crofts and supported by the Moving Image Research Group and the Digital Cultures Research Centre, UWE Bristol (25 November 2020)
Absence and forgetting to remember
,
Mining Memories: New Explorations in Cinema, Memory and the Past
symposium organised by Film and Screen Media, University College Cork, and Alphaville: Journal of Film and Screen Media, in association with the Irish Audiences Research Network (22 November 2019)
Thinking Space: Remembering Through
Father-land
,
Intersectionality in the Essay Film: Intersecting Identities in the Polysemic Memoir
,
British Association of Film, Television and Screen Studies 7th Annual Conference 2019,
Intersecting Identities: Race, Sex, Nation
; University of Birmingham, UK (25 to 27 April 2019)
'Narratives and memories',
Layers of Visibility: The artist residency as a space of practice-led research
Research Festival 2019, University of Plymouth; Jill Craigie Cinema, Plymouth (22 January 2019, event includes the first UK screening of
Father-land
)
Still Framing: The Buffer Zone as a Modern Ruin
, 5th International Conference of Photography and Theory [ICPT2018],
PHOTOGRAPHIES & CONFLICT: Archiving and Consuming Images of Strife
;
International Association of Photography and Theory [IAPT]; Famagusta Gate, Nicosia, Cyprus (22 to 24 November 2018)
Framing Memory: Return to the Zone
,
AVANCA I CINEMA
Conference 2018; Avanca, Portugal (25 to 29 July 2018)
'Approaching the Zone: Filmmaking by Osmosis', 25th Land/Water and the Visual Arts Research Group Summer Symposium,
Out of Place: The artist residency as a space of creative exploration and reflection
; followed by 'In Conversation: Autobiography, Oral History and Memory' with Kayla Parker and Hannah Drayson, facilitated by Rachel Christofides. University of Plymouth, UK (5 and 6 July 2018)
Father-land: Troubling Dialogues
, British Association of Film, Television and Screen Studies 6th Annual Conference 2018,
Revolution: Politics, Technology, Aesthetics
; University of Kent, UK (12 and 13 April 2018)
Troubling Dialogues: Fitting Words into Place
,
Essay Film and Narrative Techniques: Screenwriting Non-fiction
, First Symposium of the BAFTSS Essay Film Research Group; organised by BAFTSS and The Interdisciplinary Centre for Narrative Studies, University of York, UK (18 and 19 November 2017)
Film still:
Father-land